This article is referring to the character in the RP. For other appearances, click here
Waddle Doo is a semi-important character in the Kirby RP, owned by LapisL6/LapisL7.
Appearance
Edit
Waddle Doo is well... A Waddle Doo. The only thing different is that he has a dark green backpack that holds all sorts of items
Personality
Edit
Waddle Doo doesn't have much of a defined personality. He's usually just aiding the heroes in a very generic way
Abilities
Edit
Waddle Doo has a skillset unique to any other Waddle Doo
Beam Ability As a Waddle Doo, he can of course use the Beam ability
Technology Waddle Doo is kind of an inventor. He builds futuristic gadgets that he uses to aid the heroes and has also been shown to have experience hacking.
Enhanced Strength He has more endurance and health than an average Waddle Doo, and was even able to build an entire spaceship by himself.
Weapon Proficiency He has invented all sorts of weapons, and uses a lot of them in battle, giving him experience in all sorts of battle styles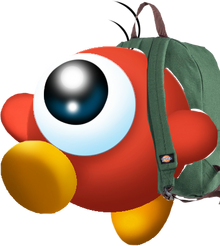 Ad blocker interference detected!
Wikia is a free-to-use site that makes money from advertising. We have a modified experience for viewers using ad blockers

Wikia is not accessible if you've made further modifications. Remove the custom ad blocker rule(s) and the page will load as expected.