..... - Pix responding to a bad question or bad pun.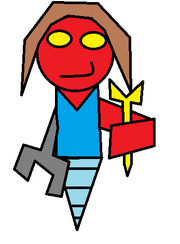 Pix is a mid-boss encountered in the Queen Hall room of Kirby And The Crimson Palace
Apperance
Edit
In Kirby 64: Pix debuts as the 2nd boss where he is not a genie, but a 3D triangle.
Kirby and The Crimson Palace: Pix is a genie character who is the cause of the icebergs. His skin is red and is the holder of the Golden Bident.
In Kirby: Starry Battles, he guards King Dedede's new castle and is still a mini-boss
In Magolor: Infected Universe, he quits his mid-boss role and turns to a proper boss.
In Kirby: Starry Battles 2, he appears as the semi-final boss after Sky Wyvern.
He is a Dark Matter which is why he only appeared in the Dark Matter Invasion and the only surviving Dark Matter left after The Legacy is defeated
When defeated, he stares at the player before disappearing in a puff of smoke.
He is invincible so he appears in loads of other games after Kirby And The Crimson Palace.
Ad blocker interference detected!
Wikia is a free-to-use site that makes money from advertising. We have a modified experience for viewers using ad blockers

Wikia is not accessible if you've made further modifications. Remove the custom ad blocker rule(s) and the page will load as expected.