Deci is one of LapisL6/LapisL7's characters in the Kirby RP and a major antagonist.
Deci

Name

Deci

Gender

Female

Species

Puffball

Copy Ability

First Appearance

Kirby RP Part XVII

Status

Deceased

Theme Music

Po Town - Pokémon Sun and Moon
Personality
Edit
Deci is very sarcastic and sassy. She usually deceives people into doing what she wants
Appearance
Edit
Deci is a green puffball with a slightly altered Magic hat.
However, after asking for power from a Nova, her skin has become paler and her eyes and hat band have become purple. The band no has a diamond pattern as is knotted at the back. She also has dark purple demonic wings and a fang on the left side of her mouth
Abilities
Edit
Deci can do a lot of things
Magic Ability She can do anything the Magic ability can
Telekinesis Deci can cause objects to levitate and throw them around.
Energy Shots She can fire blasts of energy that stun enemies.
Teleportation She can teleport freely and quickly
Enhanced Strength She can deliver powerful punches and kicks and take a lot of hits
TBA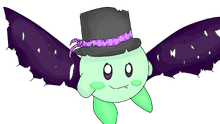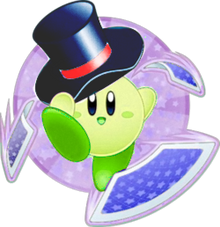 Ad blocker interference detected!
Wikia is a free-to-use site that makes money from advertising. We have a modified experience for viewers using ad blockers

Wikia is not accessible if you've made further modifications. Remove the custom ad blocker rule(s) and the page will load as expected.