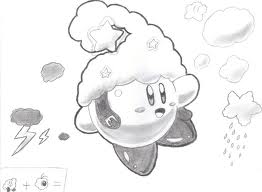 Cloud Kirby has a lot of weather moves, but 1 of his moves can be used only once. He sometimes appears in games but isn't for an ability, its for a mini-game called 
The Race In The Clouds
. This ability is very useful in
Kirby Air Ride 2
, he can create tornadoes to make his start the course all over again!
Thunder Rain
Tornadoes (Can be use only 1 time)
Sunny Day
Rain
Snow
Hail
Sand Storm
Acid Rain
Super High Jump (Beware! If you use this move, you won't be able to move until Kirby touches the floor)
Strong Winds
Lightning
Ad blocker interference detected!
Wikia is a free-to-use site that makes money from advertising. We have a modified experience for viewers using ad blockers

Wikia is not accessible if you've made further modifications. Remove the custom ad blocker rule(s) and the page will load as expected.