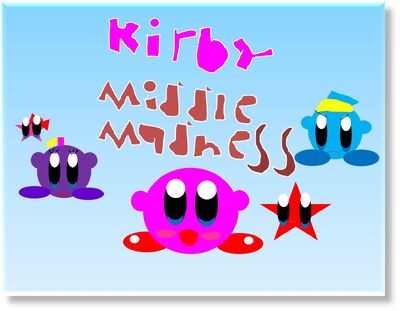 It's the first episode of kirby middle madness
Kirby is excited to go to middle school, but when he gets there he gets a school full of problems, can he find a way to bust out the school bust?
Episode Summry
Edit
it starts when kirby sucks up his breakfest and tells his mom good-bye then he hops on his friend wheelie bike and goes to middle school. he sees meta knight and they greet eachother.bandana dee is twisting his spear like a propeller to get to school. king dedede is riding a carraige to get there. Pix, who is good in the series, is riding a quick moving car to get there..jane is riding her wheelie bike. it 's purple with long eyelases and a bow.kirby starts to be dazed by jane in awe but he notices that theres a blue puffball who's doing the same thing. then they both ask who are you? "i'm randy and janes my grilfreind" says randy. kirby says "no shes my grilfriend. then they get in an argument over jane.
when they get to school the principal tells a group of students (including kirby,randy and jane ) to go to mrs.clarkson's class. mrs.clarkson is a bronto burt with glasses and she tells the class about her and tells them that she loves math and tells them that we have rules in the school and she tells meta knight to take off his mask.
More will come from 10 Brave Kirbys